Elderberry is a small tree or shrub that grows in sunny locations on the edge of other trees in damp environments.The berries and flowers are the parts most commonly used for medicinal purposes.The leaves, roots and bark of this plant tend to be toxic and therefore should be avoided.
The berries of this herb are rich in flavonoids, minerals, and vitamins, such as potassium, vitamin A, B6, and vitamin C. In fact, one cup of elderberry provides around 52 mg of vitamin c. Elderberry may have anti-inflammatory, anti-rheumatic, antiviral, and anti-cancer properties. Elderberry comes in many forms such as tea, supplement, and syrups. If you're taking an elderberry syrup, make sure that it contains minimal added sugars.
Today, I want to share a really easy and elderberry gummies recipe. it's super simple and delicious. they taste like ginger and cinnamon and clove and raw honey but not all kids like to just drink a straight shot of elderberry syrup. so we like to turn them into gummies. It only requires five ingredients 4 excluding water.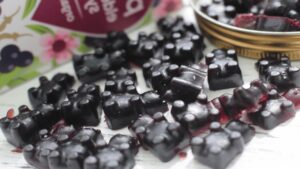 Easy Homemade Elderberry Gummies Recipe
easy homemade elderberry gummies recipe they are high in antioxidants and have great immune-boosting properties.
Ingredients
1

cup

elderberry syrup

4

tbsp

gelatin powder

1/3

cup

very hot water but not boiled

1

tbsp

coconut oil

1

qt

silicone gummy molds
Instructions
Put 1 cup of already made elderberry syrup into a saucepan.

Sprinkle 4 tablespoons of gelatin powder over the top of the syrup.we don't have this on heat and the elderberry syrup is at room temperature. we're gonna give this a whisk so that we can't see any more of that gelatin powder on top you're gonna see clumps.

Bloom for about five to seven minutes. that is going to allow the gelatin to start soaking up that moisture and changing to a more gelatinous texture.

Pour ⅓ cup of hot but not boiled water into a saucepan and stir quickly until gelatin is completely smooth.

Grease silicone gummy molds with coconut oil to prevent sticking.

Pour this ready mixture into silicone gummy molds.

Put these in a glass storage container and they will keep in the fridge easily a week or two. they would probably last longer but our family eats them before then so the kids really love having this fun little snack supplement. they're super duper easy to make and they're really really good for your kids health.