Chicken of the woods most of you probably have never seen something like mushrooms. they grow in woods you're not gonna get them from the shelves in the store.it comes from the name of chicken because they taste like chicken with lemon. chicken of the woods is always going to grow on a dying tree or a dead portion of a live tree. if you're not 100% sure that you have a chicken of the woods. please consult with someone who knows mushrooms you never want to eat a mushroom you're not 100% sure.
In this article, I will discuss the special fried chicken of the woods recipe. First, trim these into cutlets using the soft part of the mushroom and leaving behind any tough part towards the base. In this recipe, we are going to make about six servings or three cutlets per person go ahead and trim off a fibrous part, and then we're gonna make cutlet pieces about that big in addition to the mushrooms.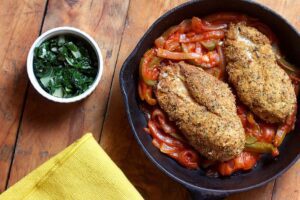 Fried Chicken Of The Woods Recipe
Possibly the greatest chicken of the woods dish you will ever taste.
Ingredients
2

tbsp

salt

2

tbsp

paprika

2

tsp

garlic powder

1/2

tsp

black pepper powder

1

cup

flour
Instructions
Dip the mushrooms into the buttermilk.make sure that every part of the mushroom is covered.

Mix all the spices and sprinkle them right on top. I want to be pretty generous and how much of the spice mix you put on for all their amazing color and these mushrooms are actually pretty mild. they're flavor especially after you cook them.

Put the mushroom pieces into the flour about five at a time. That's about as many as we can fit into the pan before you start frying.

Heat a pan about 325 to 350 degrees and you want about a third of an inch to half an inch of oil in the pan.

Dip these mushrooms into the pan and fry approximately 3 minutes per side.when they get golden brown these look great.

Fried chicken of the woods is ready.you can serve this as an appetizer as a snack or as a main dish we love to serve it with mashed potatoes and it's great with either ketchup or another dipping sauce like ranch.