Kashmiri chai (Noon Chai) is a unique tea made in the Kashmir valley made from green tea, baking soda, salt, and milk. What makes it special is not only the creamy taste but also the wonderful pink colour. And the main thing is, you can Kashmiri chai recipe at home very easily!
Kashmir is a paradise on earth and the people of Kashmir produce this special tea famous in the subcontinent. People of Pakistan and India love this tea and it is used for a special occasion such as weddings, parties etc. The delicious and fragrant Kashmiri tea (locally known as pink tea or noon tea) is super simple and easy to make at home.
History Of Kashmiri Chai (Noon Chai)
Kashmiri tea is not grown in Kashmir. And since the Chinese are representatives of the tea, they will export it to the entire Central Asian region. Kashmir was an important trading centre at the crossroads of Central Asia and South Asia. Many foreign travellers, such as Austrian army officer Charles von Hugel, have mentioned Nun Chai in their travel diaries.
It is widely believed that Nun Chai reached Kashmir from Yarkand in Turkestan. By the way, the first Muslim Sultan of Kashmir, Saddaruddin Shah (Rinchana) adopted Islam from the hands of Bulbul Shah (Saeed Sharafuddin Shah) who was from Kashgar in Turkestan.
In Turkestan, Aitkin tea is made with salt, milk and butter, similar to the region of Ladakh, known as Gur-Gur tea. Like Nun Chai, the origin of Kahwa is not clear. According to the world history of tea, it can also have its origins in the Turkestan region of Turkey, dating back to the first and second centuries of the Kushan Empire in Yarkand.
As a matter of fact, it is believed that ancient teas from the Yarkand region and the southern region of China were served with oxblood.
Benefits Of Kashmiri Chai
It is good to drink Kashmiri tea when winter comes. It also gives you warmth and calms your sense of confusion. Drinking Kashmiri tea can increase the metabolism of the body. This can accelerate the oxidation and speed of fat, thus converting your foods into calories. The antioxidant and anti-inflammatory properties contained in Kashmiri tea can help prevent wrinkles and facial ageing.
Kashmiri tea is the perfect morning drink to help develop your positive energy so that your body feels alive and active. Rich in calories, protein and carbohydrates, it is also an ideal companion to the breakfast menu.
Why is Kashmiri chai pink?
It has to do with preparation. Tea is not pink by itself. During production, baking soda and salt are added. Preparation also involves stirring large amounts for several hours, beating with a ladle, removing the entire ladder and pouring into the saucepan, stirring, and so on.
A combination of baking soda, sodium, and oxygen is added, which causes a reaction that turns the tea pink. Whole milk is added, after which it turns pink. I never tried, but now I am eager to try. Usually boiling the tea for hours makes it bitter, so I'm curious why this technique doesn't do this.
Our tea is ready And very nice pink color has arrived Now take it out in the kettle and serve Or add it in a direct cup Garnish with crushed almonds and pistachios on top of the tea.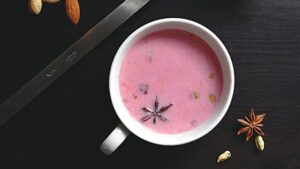 Kashmiri Chai Recipe (Noon Chai)
Ingredients
3

cup

Cold water

3

tsp

Pink tea or green tea

6

qt

Green Cardamom

1

qt

Cinnamon Stick

3

qt

Cloves

1

qt

Star Anise

1/2

tsp

Baking Soda

1/4

tsp

Salt

2

cup

Full fat milk

2

tbsp

Sugar

1/4

tsp

Rose Water
Instructions
Add 3 cups of cold water to a pan The water must be cold.

Add 3 Teaspoon of pink tea You can also use green tea.

Add 6 Pcs Green Cardamom 1 Pc Cinnamon Stick 3 Pcs Cloves 1 Pc Star Anise.

Cover the pan with a lid and boil it for five minutes.

Add 1/2 Teaspoon Baking Soda And 1/4 Teaspoon Salt.

Mix it a little Make sure the baking soda should be of good quality Otherwise the colour of our tea will not be good.

Close the lid and cook on medium heat for about 30 minutes Or cook until one cup of water is left. There is about a cup of water left And a little pink colour has come out.

There is about a cup of water left And a little pink colour has come out. add 1 cup of cold water in it If ice is available, cool the water with it Otherwise keep the water in the freezer for half an hour. boil it, and continuously beat for about ten minutes.

The colour also comes out Your tea will not turn pink if you do not overbeat it This step is very important in this recipe.

Strain the coffee through a sieve into a pot And place it on the side.

Add 2 cups of full-fat milk to a pan You can also use low-fat milk But the taste of this tea comes only in full-fat milk.

Boil the milk, When the milk starts to boil Then add some little bit of coffee.

Add some little bit of coffee in it Add the coffee according to your taste.

Add adding 2 Tablespoon of Sugar and add 1/4 Teaspoon Rose Water.

Our tea is ready And a very nice pink colour has arrived Now take it out in the kettle and serve Or add it in a direct cup Garnish with crushed almonds and pistachios on top of the tea.