Everyone loves chicken or turkey breasts, but when it comes to beef, we love beef ribeyes. This recipe is a great choice for anyone who loves beef steaks. They're extremely delicious. It's a simple recipe that provides hearty bass, tender meat that's sure to be a hit with families and friends. Ribeye steak crockpot recipe is a shortcut to a delicious weeknight dinner. They can also be a cheaper and healthier option than regular weeknight meals. 
Today I am going to share with you a ribeye steak crockpot recipe that is extremely tender and super delicious. It is the combination of tender, juicy, and smoky flavors that make every day's meal so appealing. It is a must-go snack for all food lovers and can be served as dinner as well. The unique combination of smoky and tender meat has made ribeye steak very popular for a long time.
There is no difference between a rib steak and a ribeye steak aside from the fact that they are both made from beef, the only difference being that a ribeye steak is boneless whereas a rib steak is bone-in. In order to make a perfect ribeye steak at home, there are various cooking methods that can satisfy hunger with a heavenly taste. Here are 3 Ribeye steak crock pot recipes that you can make at home in no time. 
Classic Ribeye Steak Crockpot Recipe
The ribeye steak is perhaps one of the most famous steaks of all time. It gracefully graces countless steak house menus across the globe, making it easily one of the most recognizable cuts of meat in the culinary world. Ribeye steak is perfect to use in a Crockpot since it is one of the best cuts of beef for cooking, especially in the winter when you have nothing else to feed the family. Due to the unique texture of the gravy and the smoky steak, this recipe can be appropriately served on any occasion.
Ingredients
Ribeye steak meat, 2 Pounds
Gravy mix, 2 packages
Salt and pepper (to taste)
Onion powder, ½ teaspoon
Garlic powder, ½ teaspoon 
Celery seed, ½ teaspoon 
Chili powder and paprika, 1/4 teaspoon
Water, 2 cups
Instructions
Step 1
Place the steak in a large mixing bowl and sprinkle the salt and pepper. Rub the steak properly, then sprinkle garlic and onion powder on them.
Step 2
To give the steak meat a hot and spicy taste, sprinkle on some chili powder and paprika and rub it properly.
Step 3
Pour celery seed over the meat and place it in a crockpot. Then pour in water and gravy mix to obtain a savory and gravy texture.
Step 4
Cook the steak for 6-7 hours on low heat, stirring the mixture often to prevent too much burning. Add enough water to make the meat juicy and tender.
Step 5
The classic ribeye recipe is now ready to be served with any meal as a perfect side dish.
Slow Cooked Ribeye Steak Recipe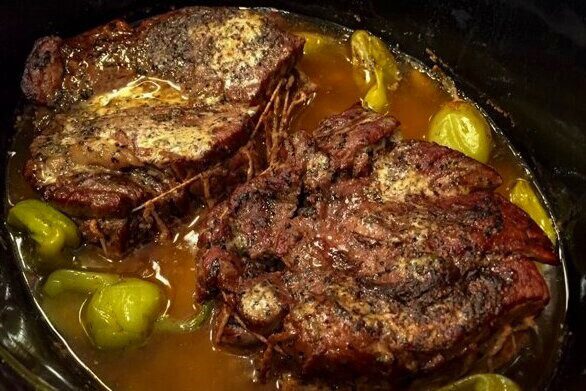 Slow cooking is an excellent way to prepare ribeyes and really makes them tender, so eating them slowly in your slow cooker is the perfect method. If you make it the traditional way that takes a long time, you'll have to have patience, because it will take a while. This recipe will be perfect to make at dinner time in the evening, and the slow cooking method will mean the beef will be tender. Give it a try today!
Ingredients
Ribeye steak meat, 3 pounds
Soup mix, 1 package
Medium-sized potatoes (chopped), 4 
Water, 2 cups
Onions (chopped), 1 cup
Olive oil, ½ cups
Salt and pepper (to taste)
Onion powder, ½ teaspoon
Instructions
Step 1
Place the ribeye in a large mixing bowl and sprinkle salt, pepper, and onion powder over it.
Step 2
After that, place the steak on a pan greased with olive oil and cook for a few minutes until it is brown on all sides.
Step 3
Remove the half-cooked steak from the pan and place it in the crockpot. Add chopped potatoes and onions to the pot.
Step 4
Pour water and soup package over ribeyes and add 6-7 hours under low heat so the ribeye gets a sizzling gravy flavor.
Step 5
Take the ribeye out of the grill when it is tender and brownish grill marks appear on the steak, and serve with lemon juice and bread right away.
Ribeye Roast Crock Pot Recipe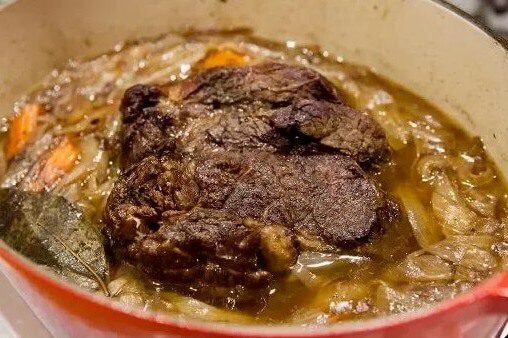 This is my favorite way to cook steak at home. It's time-efficient and easy to make. The savory and smoky flavors of the steak make it an amazing dish. The ribeye steak will be seasoned with garlic powder, chili, and many other steak seasonings and barbeque sauce before cooking in a crockpot with 1 cup of water to avoid burning. Give it a try today!
Ingredients
Meat for steak, 2 pounds
Salt and pepper (to taste)
Cayenne pepper and brown mustard, ½ teaspoon
Garlic powder and celery seed, ½ teaspoon
Chili powder and paprika, ½ teaspoon
Barbeque sauce, ½ tsp
Cooking oil, ½ cup
Water, ½ cups
Instructions
Step 1
In a dish, place the meat pieces and marinate with cooking oil. Sprinkle salt and pepper, and rub with your hands evenly.
Step 2
Add chili powder and paprika to the meat to add some extra heat. To add a smoky steak flavor, sprinkle cayenne pepper and garlic powder over the steak.
Step 3
Sprinkle celery seed on top and rub the pieces of meat properly with your hands. Put the ribeye steaks in the crockpot when the spices have been applied evenly to the steak meat.
Step 4
To keep the meat tender and avoid excess burning, add water to the crock pot. Pour barbeque sauce over the steak and cook under medium heat for 3 hours until the top layer of the steak becomes smoky and tender.
Step 5
Remove the steak pieces from the pot, sprinkle lemon juice on top, and the mouthwatering Ribeye Roast Crockpot is ready to serve.
3 Ribeye Steak Crock Pot Recipes
Cuisine: American
Cuisine type: Dinner
Servings: 6 Servings
Preparation time: 30 minutes
Cooking time: 6 Hours
Total time: 6 Hours 30 minutes
Also Read: Ruth's Chris Steak Butter Recipe