Creamette lasagna is a yummy dish. It is simple yet tasty. This dish is made with ingredients that one has at home. In this blog, i will share with you a Creamette lasagna recipe that is extremely delicious. This is not a long process as one can make it in no time. This lasagna recipe is made with cooked lasagna.
Creamette lasagna is a very simple recipe, but it's an outstanding one. The creamette is a mixture of Creamette Lasagna, Italian Sausage, eggs, nutmeg, sugar, Prego Pasta Sauce and Ricotta cheese, which are cooked until they are almost hard, and then baked in a casserole dish. You can use this recipe as a base, add your own ingredients, modify the proportions, and have a delicious dish to serve your guests.
Creamette lasagna recipe is a wonderful recipe for a classic dish. This dish is perfect for the whole family and is also a great dish to serve to friends and family. Lasagna is one of the best dishes to make as it is quite simple to make and is so versatile. For many people making this dish can be a little daunting, but it is actually quite simple. This article will look at the creamette lasagna recipe and how to make it.
How To Make Creamette Lasagna
Creamette lasagna is a wonderful dish to make with your family. This recipe is of course not very difficult to make, but the ingredients are rather expensive so if you are looking for something that is easy to make and relatively inexpensive, then this creamette lasagna recipe might be just what you're looking for. With this creamette lasagna recipe, you can simply cook up your favorite lasagna and have it ready to serve when you need it. Give it a try today!
Ingredients
8 oz Creamette Lasagna
16 oz. Italian Sausage
16 oz Ricotta cheese
1 tablespoon parsley flakes (dried)
1 Egg (beaten)
1/3 teaspoon ground nutmeg
1 teaspoon sugar
Ground black pepper (to taste)
Salt (to taste)
24 oz. Prego Pasta Sauce
1/2 cup Parmesan cheese (shredded)
1 cup Mozzarella cheese (shredded)
Step By Step Instructions To Make Creamette Lasagna
Step 1
Preheat the oven to 325 Degrees F. Cook the sausage in a saucepan until brown, drain the fat, and set aside.
Step 2
Prepare pasta according to package instructions; drain the pasta. Place the drained pasta on wax paper in one layer until ready to cook.
Step 3
In a large mixing bowl, combine the ricotta cheese, sugar, egg, parsley flakes, nutmeg, salt, and pepper to taste.
Step 4
In a 9 x 13-inch baking dish, layer 1 1/3 cups sauce, a layer of pasta strips, half of the ricotta cheese mixture, mozzarella, and sausage, and another layer of pasta strips.
Step 5
Continue layering, finishing with the remaining 1 1/3 sauce. Sprinkle parmesan cheese on top.
Step 6
Cover the baking dish with aluminum foil and bake for 30 minutes, then remove the foil and bake for another 15 minutes. Let stand for 10 minutes before cutting. Enjoy
In Closing
We hope you enjoyed this recipe for Creamette Lasagna. This recipe is a great choice for entertaining.  This can be a great way to introduce a new recipe to your family or friends. The lasagna will stay good in the refrigerator for about three to four days. If you have any questions about this recipe, please leave a comment below. Thanks for reading!
More Amazing Recipes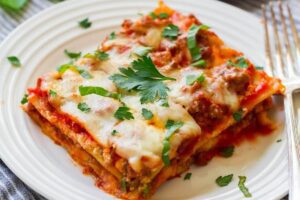 Creamette Lasagna Recipe
In this blog, i will share with you a Creamette lasagna recipe that is extremely delicious.
Ingredients
8

oz

Creamette Lasagna

16

oz.

Italian Sausage

16

oz

Ricotta cheese

1

tablespoon

parsley flakes (dried)

1

Egg

(beaten)

1/3

teaspoon

ground nutmeg

1

teaspoon

sugar

Ground black pepper (to taste)

Salt (to taste)

24

oz.

Prego Pasta Sauce

1/2

cup

Parmesan cheese (shredded)

1

cup

Mozzarella cheese (shredded)
Instructions
Preheat the oven to 325 Degrees F. Cook the sausage in a saucepan until brown, drain the fat, and set aside.

Prepare pasta according to package instructions; drain the pasta. Place the drained pasta on wax paper in one layer until ready to cook.

In a large mixing bowl, combine the ricotta cheese, sugar, egg, parsley flakes, nutmeg, salt, and pepper to taste.

In a 9 x 13-inch baking dish, layer 1 1/3 cups sauce, a layer of pasta strips, half of the ricotta cheese mixture, mozzarella, and sausage, and another layer of pasta strips.

Continue layering, finishing with the remaining 1 1/3 sauce. Sprinkle parmesan cheese on top.

Cover the baking dish with aluminum foil and bake for 30 minutes, then remove the foil and bake for another 15 minutes. Let stand for 10 minutes before cutting. Enjoy