If you're a fan of prime rib, you've likely heard of Texas Roadhouse and its famous prime rib dish. This American restaurant chain is known for serving up generous portions of perfectly cooked prime rib with a signature seasoning blend that tantalizes the taste buds. In this blog post, we'll provide you with a Texas Roadhouse Prime Rib Recipe that's sure to impress your family and guests.
What Makes Texas Roadhouse Prime Rib So Delicious?
Texas Roadhouse is known for serving up a delicious prime rib that keeps diners coming back for more. So, what makes this dish so special? There are a few key factors that contribute to the irresistible flavor of Texas Roadhouse prime rib.
First, the quality of the meat is top-notch, with only the finest cuts used and aged for at least 21 days. 
Second, the seasoning is a closely guarded secret but includes a mix of salt, pepper, garlic, onion, and paprika that perfectly complements the meat. 
Third, the prime rib is cooked low and slow in a convection oven to ensure tenderness and perfect doneness.
Finally, the generous portions and flavorful sides such as mashed potatoes, vegetables, and horseradish sauce create a satisfying and delicious meal.
What Are the Essential Ingredients for a Perfectly Balanced Texas Roadhouse Prime Rib?
Whole, uncut ribeye: This is the star ingredient and the cut of meat used in the Texas Roadhouse prime rib recipe. The ribeye is a flavorful and tender cut of beef that is perfect for roasting.
Kosher salt: This coarse salt is used to season the meat and enhance its flavor. It is important to use kosher salt instead of regular table salt, as the coarser texture will adhere better to the meat.
Sugar: The sugar is used to balance out the salty flavor of the kosher salt and add a touch of sweetness to the meat.
Black pepper: The black pepper adds a spicy kick to the seasoning blend and complements the other flavors.
Soy sauce: This adds an umami flavor to the seasoning blend and helps to tenderize the meat.
Liquid smoke: This is a flavoring agent that gives the meat a smoky flavor, even if it is cooked indoors.
Chopped garlic: Garlic adds a savory flavor to the seasoning blend and complements the other ingredients.
How to Prepare and Cook a Perfectly Juicy and Tender Texas Roadhouse Prime Rib
Make the marinade: Mix kosher salt, sugar, black pepper, soy sauce, liquid smoke, and chopped garlic to make the marinade. Refrigerate the marinade overnight to allow the flavors to meld together.
Marinade the ribeye: Pour half of the marinade over the ribeye and rub it all over the meat. Flip the ribeye over and pour the remaining marinade, making sure to coat the meat evenly. Cover the ribeye and refrigerate overnight.
Bake the ribeye: Preheat the oven to 450°F and bake the ribeye for half an hour or until the meat is seared and brown on the outside. Then, reduce the heat to 250°F and bake for two more hours, or until the meat thermometer reads 120°F for medium-rare, 130°F for medium, or 140°F for medium-well.
Let the ribeye rest: Once the ribeye is cooked, let it rest for about an hour to allow the juices to settle in the meat and maximize flavor and juiciness.
Carve and serve: Carve the ribeye and serve it as desired. Enjoy your delicious Texas Roadhouse prime rib!
Accompaniments: Ideas For Side Dishes To Serve With Your Perfectly Cooked Prime Rib
When it comes to serving prime rib, choosing the right accompaniments can elevate the dish to a whole new level. Here are some ideas for side dishes to serve with your perfectly cooked Texas Roadhouse prime rib:
Mashed Potatoes: Creamy, buttery mashed potatoes are the perfect complement to rich and flavorful prime rib. You can even add a touch of horseradish for a little kick.
Roasted Vegetables: Roasting vegetables like carrots, asparagus, or Brussels sprouts brings out their natural sweetness and makes for a colorful and healthy side dish.
Creamed Spinach: This classic steakhouse side dish pairs perfectly with prime rib. It's rich, creamy, and packed with flavor.
Yorkshire Pudding: A traditional British side dish, Yorkshire pudding is made with a batter of flour, eggs, and milk, and baked in the oven until it's crispy on the outside and soft and tender on the inside.
Au Jus: The natural juices that come from the prime rib during cooking make for a delicious dipping sauce that's perfect for bread or even drizzled over your mashed potatoes.
These are just a few ideas for side dishes to serve with your Texas Roadhouse prime rib. Feel free to get creative and try different combinations to find your perfect match!
In Closing
Making Texas Roadhouse prime rib at home is easier than you might think, and the results are sure to impress your guests. With the right ingredients and cooking techniques, you can enjoy the same delicious taste and tender texture as the restaurant's famous dish. So give this recipe a try, and savor the mouthwatering flavors of Texas Roadhouse in the comfort of your own kitchen.
More Amazing Recipes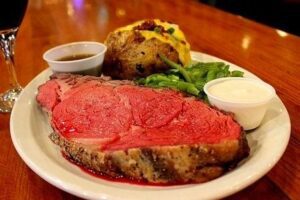 Texas Roadhouse Prime Rib Recipe
If you're a fan of prime rib, you've likely heard of Texas Roadhouse and its famous prime rib dish.
Ingredients
1

whole ribeye (uncut)

½

cup

kosher salt

2

tablespoon

sugar

2

tablespoon

black pepper

¼

cup

soy sauce

¼

cup

liquid smoke

¼

cup

garlic (chopped)